Youth Electoral Significance Index (YESI)
Many sectors of society must play a role in increasing youth voting and participation in democracy, and they can employ varied strategies to drive engagement. Different stakeholders will approach these efforts with diverse goals: some want to improve equity in civic participation, others to build a broad base of political power, and others still simply to win the next election.
CIRCLE's Youth Electoral Significance Index (YESI) is a valuable tool for any individual, campaign, organization, or institution that seeks to increase youth political engagement. The index provides a data-driven ranking of the top 10 Senate and top 10 House races where young voters have the highest potential to influence the results of 2020 elections, as well as the top 10 states where youth could determine the outcome of the presidential race. The YESI can help stakeholders identify places where additional efforts and resources to turn out the youth vote could be decisive. It can also be a tool for equity and broadening engagement, if efforts focus on reaching those not yet engaged in the top-ranked locations.
Note: We updated the 2020 YESI in August with more recent electoral competitiveness data.
Read more about the update here.
How Do We Rank the Races?
Because young people have the biggest potential to decide an election when it's projected to be close, competitiveness is a major factor in our Youth Electoral Significance Index (YESI). Thus, the 2020 YESI's Presidential race top 10 features perennial battleground states like Wisconsin, Pennsylvania, and Florida. The Senate and House Top 10s feature elections for open seats, with vulnerable incumbents, or with other factors that contribute to projected competitiveness in November. These races, like all competitive elections, are invaluable opportunities to drive especially high levels of interest and engagement from young voters.
However, along with competitiveness, the index takes into account important additional data that makes each state more likely to be ranked highly. This includes facilitative state election laws such as automatic voter registration and pre-registration for youth under 18, large youth populations, historical youth turnout and vote choice, and more. You can read more on the data and methodology here.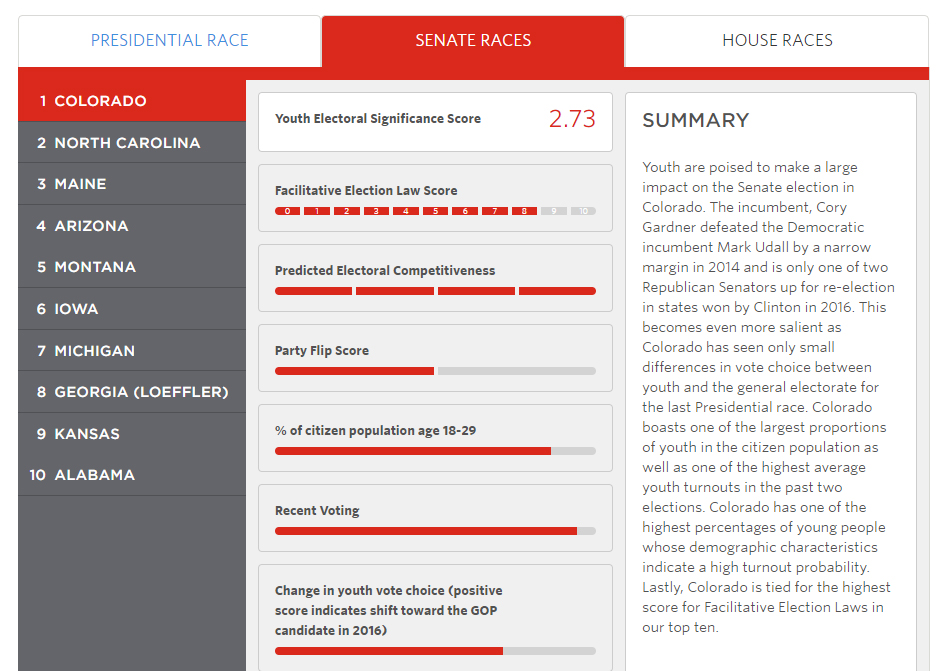 Previous Election Cycles
CIRCLE previously produced Youth Electoral Significance Index rankings for the 2016 and 2018 elections. You can explore those indices below.