Youth in Media for Democracy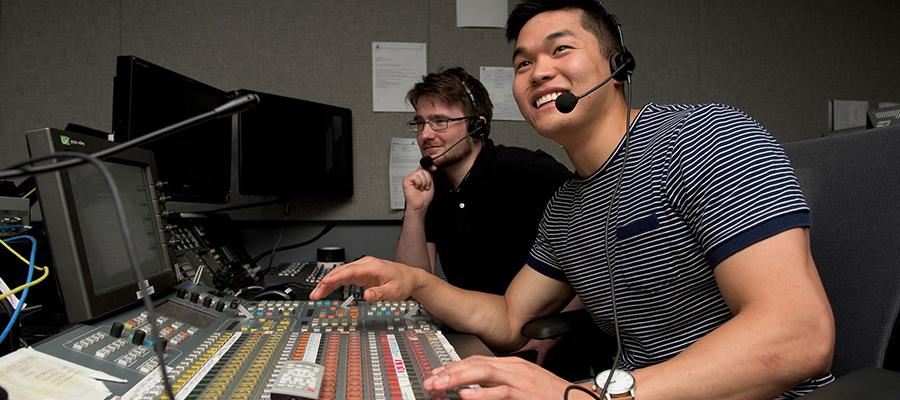 Rep Us
A new CIRCLE project throughout 2020 and beyond seeks to investigate, highlight, and advance the connections between youth media creation, more diverse youth representation in media, and expanding the electorate.
Social Media in 2018
Social media platforms reached a very large segment of young people during the 2018 election cycle, many of whom benefited from being able to engage with information about politics and voting online.
Media Literacy in 2020
Media literacy is key to young people's ability to understand, create, and act on media as they seek to contribute their voices to the 2020 election season.
Local News and Elections
The local paper, website, or evening news broadcast can be an invaluable source of information about candidates and issues in a community. But as the media landscape changes, young people are displaying varying levels of trust in these institutions, which do not always highlight their voices.
Overview
Media is an important part of the ecosystem that influences (both positively and negatively) whether and how young people participate in civic life. News in print, podcasts, on television, in social media, and cultural work shared online inform youth about the world and shape their understanding of how they can contribute to it—or whether they try. Social media is now a key way that young people are getting information about elections and politics, a way for youth to share their own media creations, and frequently a pathway to many forms of civic engagement.
When there is diverse representation, media creation and media outlets have incredible potential as an asset in advancing greater and equal youth participation. Young people are critical voices to community conversations and a potential long-term audience. And communities need many stakeholders involved in building youth participation. As we have found in the past, multiple interconnected elements need to add up in order to create an engagement infrastructure that facilitates significant increases in early participation among youth. 
For example, youth media creation and more diverse youth voices in media are powerful strategies for building young people's participation in election conversations and voting. Our ongoing research about youth voting has documented that voting and access to reliable information about elections has long been unequal among youth.  We strongly believe shifts in media engagement and representations of youth engagement can support expanding the youth electorate to one that represents youth in the United States today.
Themes and Areas of Research
Young people don't just consume media, they create it. Whether they're making and sharing GIFs, Snaps, and TikToks, or partnering with local media organizations on news stories, youth media creation is an critical way for young people to make their voices heard, bring their perspective to public conversations, and contribute to civic life.
In an election cycle like 2020, when online/digital engagement became an even more important form of political participation due to the COVID-19 pandemic, we tracked how media creation also took on a more critical role. In particular, our research found that young people of color may have found creating and sharing media online an important avenue for political engagement.
Youth media creation is the focus of CIRCLE's Rep Us Project, through which we have convened valuable conversations and received insightful contributions from both young people and media practitioners on how to improve and expand on youth media creation, as well as how to make it more equitable.
Read more about:
It is by now evident that social media plays a major role in many aspects of civic  life, and youth political engagement is no exception. Social networks have extraordinary reach: our research found that 47%—or roughly 14 million—18 to 24-year-olds heard about the 2018 elections from at least one of the four most commonly used social media platforms: Facebook, Instagram, Snapchat, and Twitter. Social media platforms also have the potential to reach a broad range of young people, including youth in Civic Deserts and others who aren't usually engaged by candidates and campaigns: 28% of youth heard or read about the 2018 election on social media platforms but were not reached by traditional outreach groups such as political parties and campaigns.
Our research also highlights that social media is not just a source of information, but an important pathway to engagement that transcends the internet. In 2018, youth who signed a petition and youth who followed a candidate or campaign on social media, were about three times more likely to attend a protest or engage in other forms of offline activism as those who did not. And in 2016, we found that young people in Civic Deserts were more likely to take action related to a political or social issue after seeing something on social media. Social media can also be a tool for young people to create their own media and insert their own voices into political conversations.
Read more about:
Local News and Media Literacy
Local media outlets are critical to strong and equitable civic life, but in many places are struggling for sustainability or have already shut down. This affects young people's exposure to local political information, issues, and discussion. Trust in media is also down, especially among youth, and especially when you ask youth how their community is covered. In 2018, we found that less than half of youth ages 18-24 reported that they trust reporters and journalists to cover issues in their community accurately, only 56% said they see issues they care about covered in mainstream or local news media, and just 23% say that they see "young people like me" covered accurately in local news.
This is a challenge, but also an opportunity. Youth can and will participate in local media if they're given access and opportunities. Incorporating more diverse youth voices in media is especially a key strategy for building young people's participation in election conversations and voting; shifting media representations can support expanding the youth electorate to one that represents youth in the United States.
Ensuring that young people can best take advantage of these opportunities will also require an increased focus on media literacy. Many young people are already adept at creating media about their communities and about politics and elections. Improving their media literacy can enhance not just specific skills related to understanding and making content in a complex media ecosystem, but also a deeper understanding of what actions are possible, and of how someone can go about taking those actions to try to achieve change or have an impact.
Read more about: