Elections are invaluable nationwide opportunities for young people to participate in democracy. As part of our efforts to broaden youth voting and ensure that more and more diverse young people engage in the electoral process, CIRCLE conducts substantial research on how youth participate in elections. In 2020, we're tracking youth voter registration rates, their views on the candidates, and their involvement in the political process.
We also endeavor to take a step back, look beyond the 'horse race', and examine the myriad social, institutional, and political contexts that can affect whether and how youth participate: emerging activist movements, social media trends, new election laws, and the competitiveness of races across the country. We especially seek to highlight disparities in youth electoral engagement that illustrate the political marginalization of some youth and communities, with an eye toward closing gaps and redressing inequality.
Explore all of our data, analysis, and commentary on the 2020 election
Election Week 2020
As the votes are counted, we're tracking youth electoral participation and the influence of young voters in races across the country. Check out our Election Week 2020 page for national and state-by-state data on young voters' engagement and impact.
Early Voting by Youth
Voting in the 2020 election is already underway, and we're tracking early and absentee voting by youth ages 18-29. As of October 27, more than 7 million young people have already cast ballots, including over 4 million in 14 key states—shown below—like the electoral battlegrounds where our Youth Electoral Significance Index highlights young voters can have a decisive impact on results. We're also tracking the youth share of the early vote in each state and seeing major increases compared to 2016. Read more here
The State of Youth Voter Registration
Our most recent analysis of youth voter registration reveals that, in most states, the number of young people registered to vote is already higher than it was days before the November 2016 election. But, in terms of registration of the youngest eligible voters (ages 18-19), many states are still lagging behind. Read more here
Latest 2020 Research
Explore our comprehensive data and analyses of youth participation and impact on the 2020 election.
In every state we're tracking, the youth share of the early vote is higher than in 2016, and in eight states youth have already cast more votes than the 2016 presidential margin of victory.
We spoke to community leaders about how they've adapted their strategies and messaging, embracing digital platforms to reach youth despite COVID-19.
Polling and Other Analyses
Background: What to Know Before 2020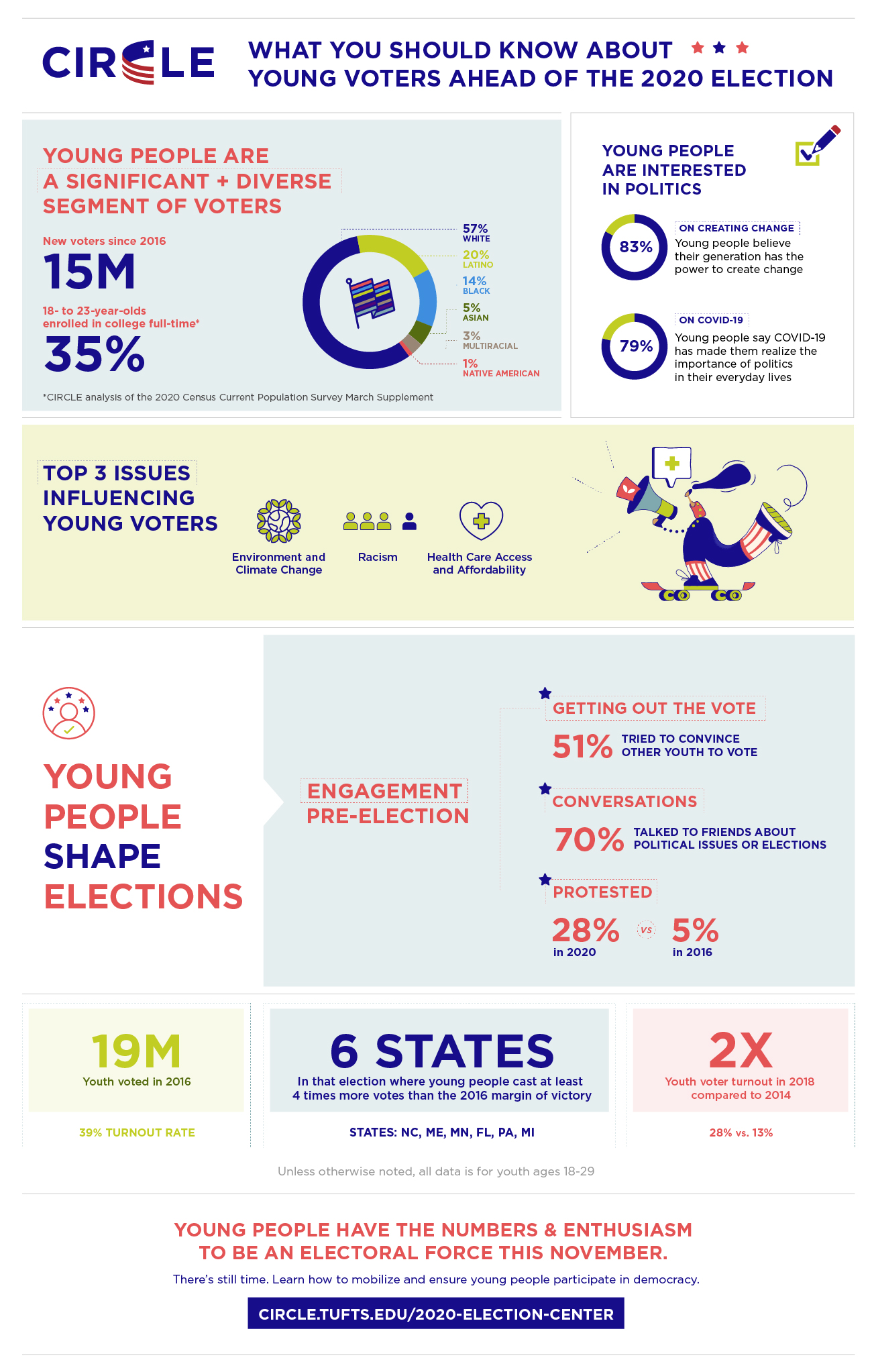 Previous Presidential Election
As we examine youth engagement in 2020, it is useful to recall and consider young people's participation in the previous presidential cycle. In 2016:
39% of eligible young people turned out to vote
Young voters favored Democratic candidate Hillary Clinton over President Trump, 55% to 37%
There were significant differences in vote choice by race—for example, 48% of White youth voted for Trump and 43% for Clinton, while 83% of Black youth voted for Clinton and 9% for Trump.