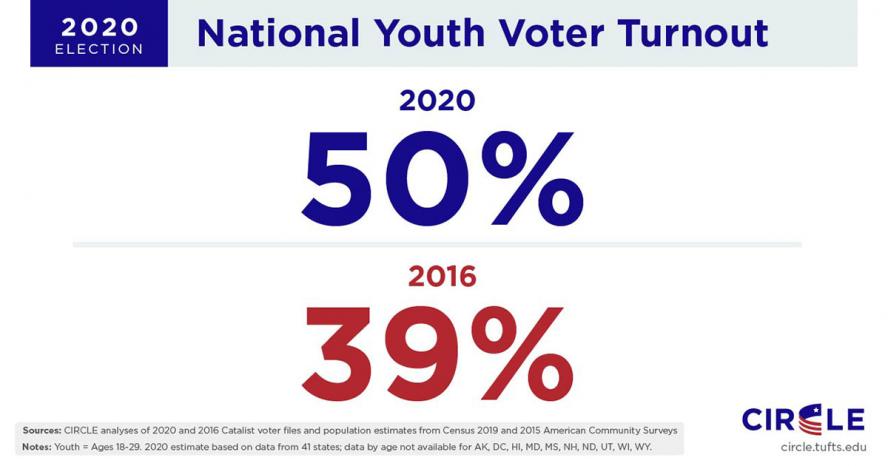 Elections are invaluable nationwide opportunities for young people to participate in democracy. As part of our efforts to broaden youth voting and ensure that more and more diverse young people engage in the electoral process, CIRCLE conducts substantial research on how youth participate in elections. In 2020, we tracked youth voter registration rates, their views on the candidates, and their involvement in the political process.
We also endeavored to take a step back, look beyond the 'horse race', and examine the myriad social, institutional, and political contexts that can affect whether and how youth participate: emerging activist movements, social media trends, new election laws, and the competitiveness of races across the country. In this unprecedented election year that was shaped by COVID-19, we paid special attention to how the socioeconomic effects of the pandemic and the changes to election processes to make voting during the pandemic safer affected youth. As in all our work, we especially sought to highlight disparities in youth electoral engagement that illustrate the political marginalization of some youth and communities, with an eye toward closing gaps and redressing inequality.
Explore all of our data, analysis, and commentary on the 2020 election:
General Election
Throughout the 2020 election week and in the days that followed, we produced extensive data and analyses of young people's electoral participation and the influence of young voters in races across the country. That included our exclusive estimate of youth voter turnout, state-by-state data on young people's vote choice and their impact on key races, and nuanced analyses of youth of color's role in the election:
Voter Turnout: We estimate that 50% of youth voted in 2020, a major 11-point increase from 2016.
Vote Choice: 61% of youth voted for Joe Biden and 37% for Donald Trump
Voter Turnout by Race/Ethnicity and Gender: White youth voted at the highest rate in 2020 (61%), but youth of color appear to be narrowing the historical gap. Young women (55%) voted at a higher rate than young men (44%)
Vote Choice by Race/Ethnicity: There were major vote choice differences by race/ethnicity: 87% of Black youth voted for Biden, compared to 51% of white youth
Voter History: 20% of young people who voted in 2020 were first time voters, 40% had voted in 2012 and 2016, and 40% had voted in 2016 and 2018
Impact on Close Races: In states like Georgia, Pennsylvania, and Arizona, young Black and Latino voters were instrumental in swinging tight races for Biden
Latest 2020 Research
Our 2020 data showed that young Asian women, young Black women, and young Latinas were more likely to talk politics, participate in elections, and fight racism.
Our research suggests local media was especially helpful to the youngest eligible voters and to youth of color.
White youth voted at the highest rate in 2020, but youth of color are closing the gap.
Early Voting by Youth
Because of the COVID-19 pandemic, early and absentee voting was a major part of the 2020 election. We tracked early voting by youth (ages 18-29) and found that more than 10 million young people voted before Election Day; the chart below shows early voting in electoral battlegrounds, in some cases surpassing the total number of youth.
Subsequently, our post-election analysis based on data from AP VoteCast by The Associated Press found that 70% of young people voted early or absentee, but there were differences by race/ethnicity and educational attainment that point to inequities in access and opportunity.
Youth Voter Registration
We also tracked youth voter registration in the weeks leading up to Election Day. Our analysis revealed that, in most states, the number of young people (ages 18-29) registered to vote was already higher in October of 2020 than it had been just days before the November 2016 election. But, when it came to  the youngest eligible voters (ages 18-19), voter registration lagged behind 2016 in many states, which suggested challenges to reaching and engaging the newest potential voters—likely, in small or large part, because of limitations to voter outreach and registration activities due to the COVID-19 pandemic.
Polling and Other Analyses
Previous Presidential Election
As we examine youth engagement in 2020, it is useful to recall and consider young people's participation in the previous presidential cycle. In 2016:
39% of eligible young people turned out to vote
Young voters favored Democratic candidate Hillary Clinton over President Trump, 55% to 37%
There were significant differences in vote choice by race—for example, 48% of White youth voted for Trump and 43% for Clinton, while 83% of Black youth voted for Clinton and 9% for Trump.
2020 Research In the News