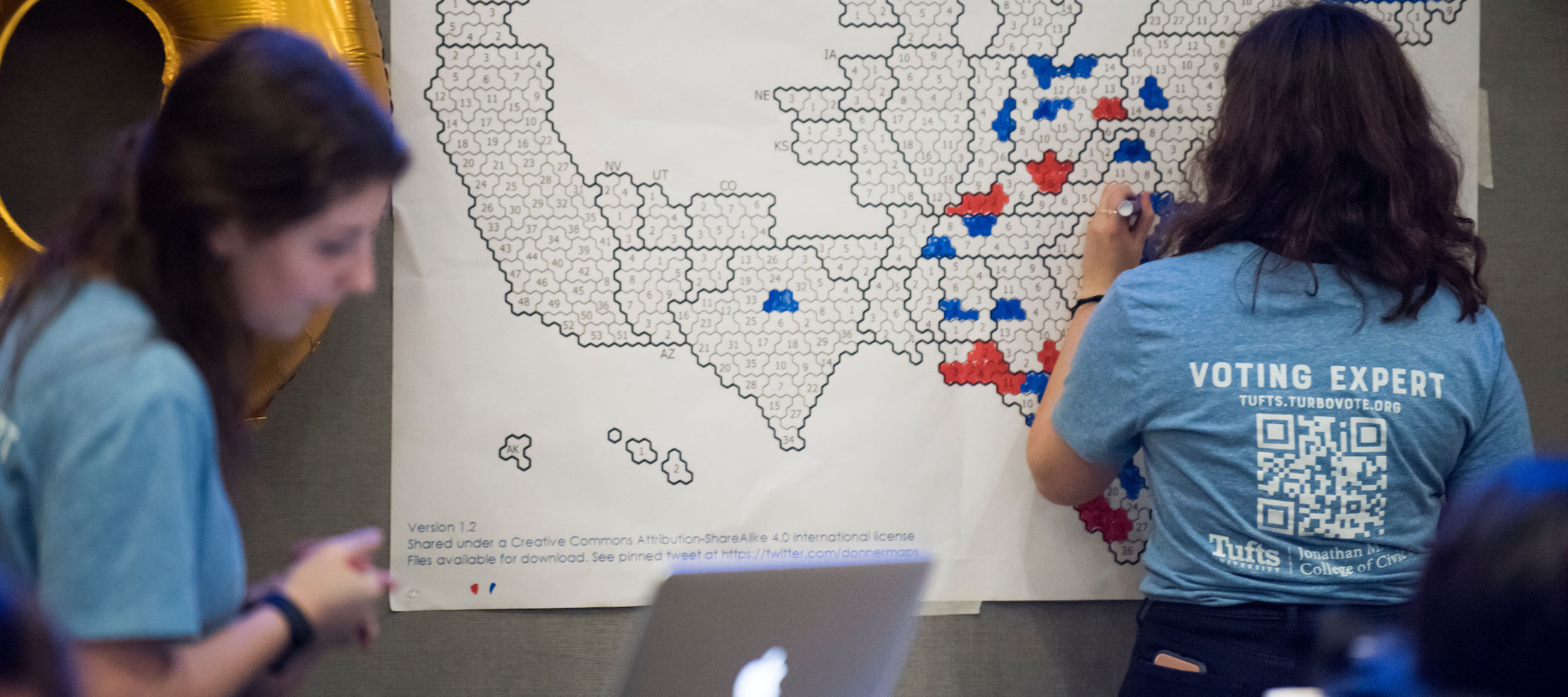 Youth Voting in 2020
Our comprehensive research on the impact of young voters in 2020 is tracking their participation in primaries, their support of presidential candidates, and their views of the race.
Growing Voters
Our signature paradigm for preparing young people to participate in democracy has recommendations for educators, policymakers, and community members to help engage youth before they reach voting age.
Engaging a Broader Electorate
Engaging a Broader Electorate
We worked with young Opportunity Youth United leaders in six communities to understand the experiences of their peers and produced a report on the barriers to voting faced by low-income youth and how election administrators can help help address them.
Overview
Voting is a fundamental act of civic participation through which young people contribute to democracy. While it's one of many ways forms that youth engagement can take, it is a powerful way for youth to make their voices heard and to have an impact on issues that affect them and their communities. Their votes can be influential and even decisive. And, because elections happen everywhere, they are universal and frequent opportunities for civic learning and engagement that can also serve as entry points to other forms of participation.
Yet, historically, young people have voted at lower rates than older adults. That may be starting to change: in 2018, youth turnout was the highest we have ever recorded for a midterm election, and young people's participation increased (compared to 2014) more than that of older voters. That said, our research consistently indicates that election systems and the preparation many young people receive (or fail to receive) to become informed voters are inadequate, leading to significant variations in voting rates by race/ethnicity, educational attainment, and other socioeconomic and demographic factors.  When certain groups have more say in what happens in their communities and the nation, we fall short of the premise of our democracy, which relies on participation. At the same time, we miss an opportunity to improve our communities and the systems that develop informed and passionate civic actors by not actively addressing structural barriers to civic learning and opportunities. Thus, broadening youth voting is one of the vital tasks in strengthening democracy.
Latest Research
An exclusive CIRCLE survey of young Texans conducted in January also found high support for Bernie Sanders, followed by Joe Biden and Elizabeth Warren
Our exclusive analysis finds that 19% of youth voted in the New Hampshire Democratic primary and that their choices shaped the results.
Our exclusive analysis finds that Bernie Sanders and Elizabeth Warren performed best in Iowa counties with a high concentration of youth.
Data Tools and Major Reports
Youth Electoral Significance Index (YESI)
YESI is our exclusive ranking of where young people have the highest potential to influence elections, based on data about race competitiveness, the state's election laws, and other factors. Check out the 2018 YESI and be on the lookout for 2020 soon!
Report from our Commission on Youth Voting and Civic Knowledge
This 2013 report is the product of major CIRCLE research on young people's civic education and political engagement, and highlights our foundational recommendations for broadening youth voting.
RAYSE: Reaching All Youth Strengthens Engagement
Our exclusive tool provides county-level data on electoral history, population, quality of life, and other factors that influence engagement in order to guide local conversations and investments to increase youth voting and participation.
Themes and Areas of Research