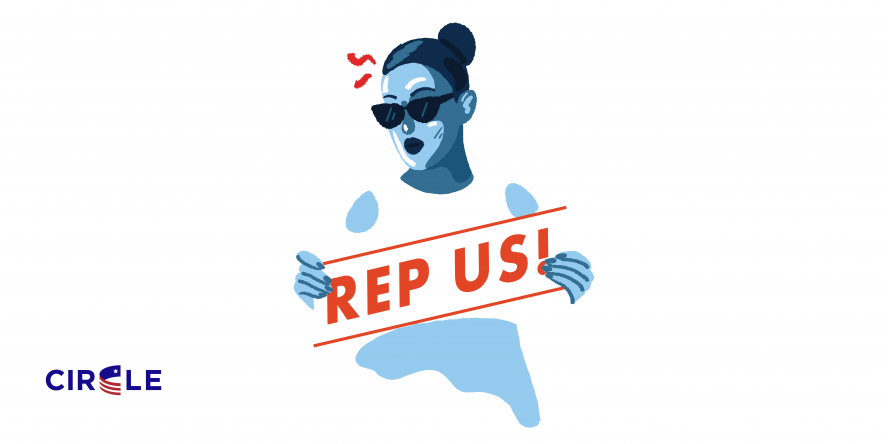 In 2020 we're zooming in on the relationship between media and election participation among young people. This new project is an intersection of three fundamental goals of our work:
Diverse Representation: In our representative democracy, the electorate should be as diverse as the country itself. We must find more ways to improve diverse youth representation in our democracy and the issues of access to information that hinder youth participation. 
Media as a Civic Influencer: Exposure to and engagement with media helps to build one's own perspectives and understanding of our roles in democracy. Efforts to teach media literacy for elections must include this explicit connection, and media coverage of youth can and should more accurately represent young people's participation and their experiences. How can many local stakeholders support positive civic influences through a local election ecosystem that includes visible, diverse young people in media?
Growing Voters: Making sure we start this work early enables us to Grow Voters and active community members, preparing young people for participation even before they reach voting age. 
This project is called Rep Us, because representation is key to democracy and representation matters to engagement. As a result, throughout 2020 and into 2021, we will undertake collaborative inquiry with a wide range of partners, catalyzing conversations and encouraging both youth media creation and inclusion of diverse youth voices in conversations about the 2020 election. Some of the questions we are pursuing include: How can youth media engagement and media creation expand the youth electorate? How can more diverse representations of youth engagement in elections within media affect youth engagement? Can it also influence the audiences for local media outlets?
Join Us and Support This Work
Sign up to get updates on our conversations, research, and examples of efforts at the intersection of media and civic engagement from across the country.
Catalyze conversations in your area, using these and other examples of practice and timely research, about the civic application of media literacy and maximizing the positive role of youth-created media—and youth representation in media—toward increased and more equitable youth engagement.
Support or amplify examples of media created by young people about elections and voting, or of how diverse young people are engaged in the 2020 election.
Highlight opportunities for you or others to further elevate a diverse range of youth voices and perspectives in your community's public (virtual and physical) spaces and in local media coverage of the 2020 elections.
Find and share resources to support youth media creation, especially in educational contexts in which media literacy can be one outcome.
Use articles, books, or videos that highlight stories of young people who are engaged in the civic life of their communities, and teach media literacy as students examine and analyze these sources.
Encourage students to formulate and share their opinions on current events at a local or national scale, with one another or more broadly.
Facilitate activities from our Toolkit for Youth Media-Making, a series of lesson plans designed to elicit students' perspectives on civic issues through making memes, GIFs, photo series, videos, and more.
Don't just grade student work; publish it. Submit students' civic-related content to local news stations, newspapers, or blogs.
Invite members of the media into your classroom to teach students about how their industry or platform works, how to get published, or how to bring attention to student-organized events or campaigns.
Check out these resources from across the web to support you in media-making with young people:
Seek out and elevate the voices and stories of young people as you research and publish your stories, especially young people typically underrepresented in mainstream media coverage.
Recognize and highlight the diversity of young peoples' perspectives and experiences; don't succumb to painting a picture of youth as one homogeneous entity.
Create a regular platform, like an ongoing series or column, to publish youth voices, and spread the word about the opportunity to young people, schools, and community groups.
Use social media to reach young people where they are; don't wait for them to find their way to your platform.
During elections, assess what issues are being covered and if any of these are aimed at an under-30 audience and address what young people in your area care about. If not, challenge candidates to speak and act on those issues.
Share your perspectives and create media for outlets to lift up: write letters to the editor or op-eds, make audio submissions for radio or podcasts, share photos or video from your unique vantage point.
Follow local news outlets and journalists on social media, subscribe to their newsletters, or even subscribe to the print edition of your local paper.
Help journalists and youth-serving organizations understand what they're missing about the youth perspective. Tweet responses to their published work or comment on online articles to voice your experiences, or share recommendations for what issues media outlets should cover and how to approach those issues
Celebrate the energy and engagement of your peers. Help change the popular narrative that young people are apathetic by showcasing real stories you witness of youth playing an active role in improving their communities.
Encourage organizations and campaigns you care about to pay attention to young people and offer ideas for how they can make that happen.
Background
In 2014, CIRCLE began to investigate more deeply the relationship between media literacy and youth civic engagement. As a follow-up to that work, in 2017 we launched a partnership with The LAMP to catalyze action in this area for the 2020 election. Our partner at The LAMP had a mission and vision that birthed a campaign which we subsequently co-lead. While The LAMP has since closed its doors, we are excited to continue the work of supporting and amplifying youth voices as a way to expand the electorate.