KUOW's RadioActive Youth Media on Centering Youth Voices in 2020
This is part of our Rep Us Practitioner Series, in which partners in this field share their experiences running programs in which young people's voices inform public conversations.
By Lila Lakehart, RadioActive Program Manager
I remember the day our team at KUOW's RadioActive Youth Media was called into a conference room in March 2020 and told we were going to be working from home through the end of the month. We had just closed the early application deadline for our summer workshop and were focused on selection meetings and finalist interviews. We worried about how being out of the office for a few weeks would affect our ability to prep for the summer workshop. We could never have imagined how much life was about to change.
RadioActive is a youth journalism program for teens at KUOW Public Radio in Seattle, the region's largest NPR station. The program began in 2004 when high school students asked to have a voice at the station. It was permanently established as a full-time program in 2013 and has since served more than 4,000 youth through introductory, advanced, and community workshops. RadioActive's paid intensive summer intro workshop is our flagship program. In 2019, over 100 teens applied for 18 slots.
In the spring of 2020, as in-person schooling shut down and stay-at-home orders stretched on, we had to decide: cancel our summer workshop for the first time in 17 years, or figure out how to make a program based on technology, mentorship, and professional studio access an entirely online experience. Teens were facing uncertainty, fear, mental health struggles, family problems, and financial crises. There were fewer job opportunities available for young people, and many of the youth-serving organizations in our area were canceling summer programs. We knew young people needed a program like RadioActive more than ever.
Adapting the 2020 Program Due to COVID-19
Youth voices are not heard enough in media. This is a reflection of, and contributes to, a lack of young voices in important institutional decisions that affect young people, as well as a deficiency in the general public's understanding of the full richness of the society we live in. When young people create stories for our podcast and airwaves, it's not just an opportunity for them to build skills and amplify their voices. It's a win for all of us when we get a chance to hear more diverse perspectives. We needed those perspectives now. In times of crisis, storytelling and connection are more important than ever. We had to figure out how to run our program.
We knew we couldn't just adapt our regular workshop – a 6-week intensive (10am-4pm, Monday-Friday) where 18 teens were paid to work at KUOW learning radio production skills and creating original podcasts and feature stories. That model wouldn't work online. We had to design a brand-new program. But we didn't want to lose the essence of what made RadioActive great: mentorship, connection, and the chance to build both hard skills (audio recording, writing, interviewing, audio editing) and soft skills (leadership, confidence, time management, collaboration).
Our goals were to design a program that would center youth experience, community-building, and accessibility. We had to be realistic about what we could accomplish and what was healthy and achievable for youth in an online setting during a pandemic and a racial justice uprising. Story expectations were pared down. We met for three weeks, Monday-Wednesday from 10am-12pm and 2-4pm, with optional drop-in hours on Thursdays and Fridays. We started every day with a check-in circle, did lots of get-to-know-you activities, and ended each day with reflection and feedback. Our workshops are interactive and collaborative, encouraging young people to try out skills on their own and to learn from each other. We figured out how to do that online, especially making use of small group breakout rooms and screen-sharing. In a typical day youth might learn interviewing skills, then go into small group breakout rooms to ask their peers any questions they still have about the skill. During the scriptwriting and audio editing process, participants shared ideas and advice in small group feedback sessions.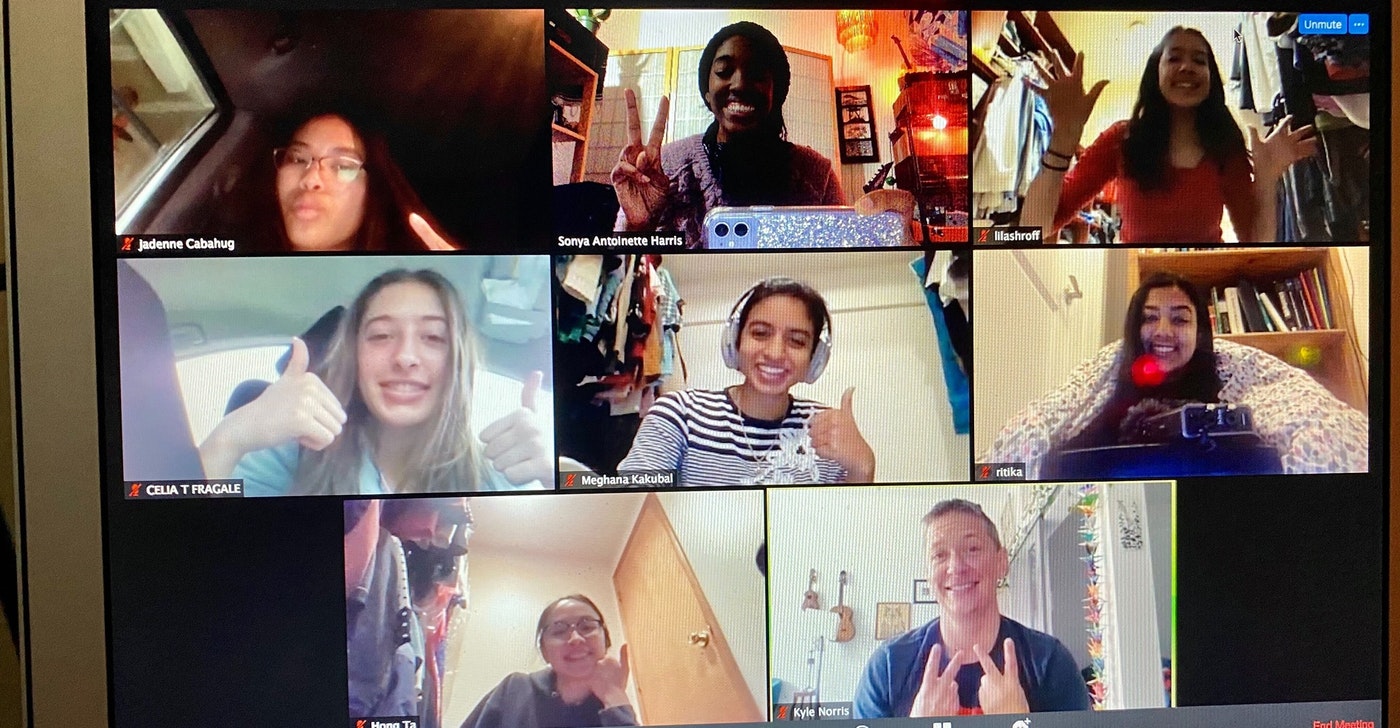 We wanted the summer 2020 workshop to be fun and accessible for everyone. We offered laptops, smartphones, and Wi-Fi hotspots to every participant, and we dropped off snacks, office supplies, and program binders. During online programming we used the chat function a lot, provided transcripts of everything we played, and had slide decks and materials available in advance. We requested feedback about accessibility before, during, and after the program.
Mentorship has always been a cornerstone of RadioActive programming. We learned that it actually takes more staff to create a safe and supportive space online. We had three core staff members, four mentors, and three peer mentors working to support the 12 teens in our summer workshop. Participants met regularly in "mentor groups" to connect and get support. Each young person selected their story idea and worked to create it with the support of their mentor and peers. Some participants told a family member's immigration story or reflected on how their family history related to their own experiences. Others shared a mentor's story: a teacher of color who made a young Native teen feel seen, or a non-binary high school principal who supported queer youth voices. One participant highlighted their teenage friend's struggle to get sober with the help of music and community.  RadioActive staff worked as story editors and met with each student for two script edits before stories were finalized. Participants did all the audio recording, scriptwriting, voicing, and audio editing for their stories, with close support from mentors and editors.
All 12 participants successfully completed the summer workshop and produced high-quality audio stories in which they expressed great pride. Although we didn't go in with this expectation, all the stories were approved for air on KUOW in a one-hour special broadcast on Thanksgiving weekend. We also hosted an online public listening party. Youth didn't get the experience of standing on stage and watching an audience hear their story for the first time, but they did have the chance to share their work with friends and family, in a format that many people said was more accessible than an in-person event.
Participants Reflect on their Experiences
At the end of RadioActive's summer 2020 workshop, participants shared reflections about their experiences. Their takeaways made it clear that we succeeded in creating community and building storytelling and leadership skills. Workshop participants gained confidence and learned the importance of young people having a voice in media.
"In the beginning I didn't want to turn my camera on or show my face or speak up. I thought I'd get judged for my opinions. I really changed for the better. Now I ask questions and say what I feel. That has a lot to do with the welcoming environment made by everyone here."
"I learned the importance of being willing to change my idea and being willing to take advice from other people. I learned to not beat myself up when something isn't perfect. You should use the feedback to your advantage to grow."
"Everyone's got a story. And although we might think, 'Oh, my story is not interesting' or 'Oh, no one's gonna care about my story.' Guess what? Newsflash, you're the only one who can tell that story."
"I think journalism is one of the most important things in our world, especially today, since we have so many things going on. And when young people are brought into the conversation, I think adults are always shocked at how much we know, and how much we have to say. Because this is our world. This is like, the next generation of leaders and of lawmakers and everything. So we need to have that voice. Because not only do we need to share our perspective, other young people need to hear from youth."
Accomplishments and Lessons Learned
After we made it through the summer, it was clear that in-person programming wasn't coming back anytime soon. We took what we learned about virtual programming, asked for feedback from our community of program graduates, and asked ourselves who we were in the best position to serve and what new things we could try within our limitations. Based on what we learned, here are some of the journalism experiences we've offered through RadioActive online programming in the last year:
Collaborated with KUOW reporters and producers to produce photo essays and contribute to reporting series, specifically highlighting youth perspectives during the pandemic.

Hired program graduates to reimagine our social media channels and produce original social media content.

Partnered with a low-income housing community for a weekly online community workshop where middle schoolers were paid to produce short podcasts on topics of their choice.

Created a journalism speaker series for advanced producers (program graduates) to continue to build connections and skills.

Launched a brand-new podcasting program where advanced producers incorporated fictional elements to create engaging conversations about issues important to them.
Dipped into our story archives to produce a 10-part podcast series in which youth hosts revisited stories that still resonate for them.

Offered a five-part community workshop series highlighting five specific journalism skills, open to any student in Seattle Public Schools.

Adapted our spring advanced producers workshop for an online space, paying 12 graduates to produce original podcasts, creative audio stories, and radio features.

Relaunched a long-standing partnership with the King County Juvenile Detention Center to offer skill-building and production experiences to incarcerated youth.
In a mid-year equity planning session with youth and mentors, graduates asked us to start redesigning our post-pandemic programming as "hybrid workshops," incorporating virtual opportunities in order to increase accessibility and equity.
This year has been challenging on so many levels, but for RadioActive it has also been a chance to learn and try new things, and to prioritize community connection and access. We're grateful for the young people we've been able to work with and the stories we've gotten to hear from them.